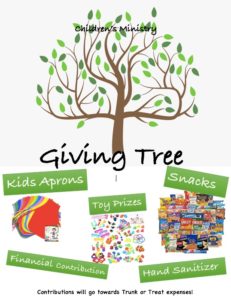 Giving Tree Donation Event!!
🌳
We so appreciative of the support from the body of of believers at Parkman Church for the children's ministry!
🌳
Our giving tree this year may have fewer items but they are equally as important!
🍂Aprons to keep clothes clean when we're being extra creative with paint!
🍂Snacks for our very hungry tummies during church!
🍂Toy prizes for special occasions and rewards!
🍂Hand Sanitizer to keep our little hands clean in between hand washing!
🍂 Financial contributions to help with our most popular community event!
Your prayers, time volunteering or participating and donations are what help keep our ministry running.
🌳
Donations can be brought to the church, monetary donations can be placed in the drop box outside the church main entrance- be sure to label it for the children's ministry, or special arrangements can be made for pickup just reach out to Rebecca Hostetler!
🌳
Thank you for YOUR support!