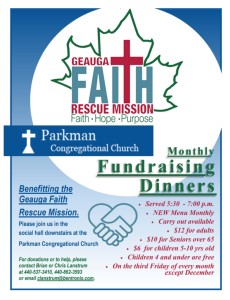 Benefitting the Geauga Faith Rescue Mission.  Please join us in the social hall downstairs at the Parkman Congregational Church.  
• Served 5:30 – 7:00 p.m.
• NEW Menu Monthly
• Carry out available
• $12 for adults
• $10 for Seniors over 65
• $6 for children 5-10 years old
• Children 4 and under are free
• On the third Friday of every month except December
For donations or to help, please contact Brian or Chris Lanstrum at 440-537-3410, 440-862-3593 or email clanstrum@bentronix.com.
MENUES:
**All below meals will include rolls with butter, fruit and assorted desserts**.
January- Meatloaf, mashed potato's, green beans and salad
February- Lemon pepper chicken, rice pilaf, carrots and salad
March- Baked fish, macaroni & cheese, peas and Cole slaw
April- Fried fish, French fries and Cole slaw
Will update with the remain menu as it becomes available.