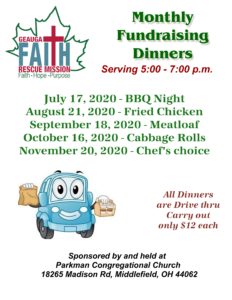 Benefitting the Geauga Faith Rescue Mission.
Please join us for the drive-thru dinner at Parkman Congregational Church.
• Served 5:00 – 7:00 p.m.
• NEW Menu Monthly
• Carry out is $12.00
• On the third Friday of every month except December there will be no meal in December.
For donations or to help, please contact Chris Lanstrum at 440-862-3593 or email clanstrum@bentronix.com.
MENUES:
August 21st-Fried Chicken
September 18th-Meatloaf
October 16th-Cabbage Rolls
November 20th- chef's choice